Thanks Kasabi, that's really helpful - I've tried to practice that just on people I know as well.
Went to a birthday on Thursday, didn't want to drink much but people kept bringing me drinks lol... So I got more drunk than I wanted anyway. I knew one person there, so I just saw it as an exercise to meet and mingle with new people. At first I was really stiff and my conversation sucked, I wasn't creative in what I was saying at all.
But soon after that I managed to talk to a couple of girls that were there, one notable interaction we'll call her M. She was a rich girl from chelsea, and studied biological medicine and then went onto work for a real estate agency that specialise in property for hotels or corporate clients, she's in the insurance sector. She really went into detail here about her job, and she seemed quite passionate about it, I kept trying to steer the conversation to less serious things. The most I got out of her was that she goes to the gym, and she wanted to lose some weight after working a really demanding recruitment job.
We then had a quick talk about the tinder app, she said she wanted to date some rich men or something along those lines. So I joked around you should have your expectations in your bio section "1. Lobster only, 2. Champagne dinners 3. No sex on first dates until criteria 1 & 2 are fulfilled. She laughed and we then some guy came over who is studying medicine she then spoke about her studies in detail for a while, obviously they could relate here but I was left on the outside, although I ended up giving him career advice for his job i.e working home visits and on locum for the NHS. She went off to get another drink so I changed to a different table.
I left shortly after that probably 20-30 mins. Anyway made an effort to say bye to her, and she said something along the lines of: we should get *birthday boy's name* to have a reunion soon, or some kind of meet up. I could have gone for her phone number here but I really didn't think she was interested, plus we never really spoke about anything we could go and do together. On the basis of that I think it would have been a dead number per say.
Friday
Went out for someone's birthday (again) and ex work college, who I would love to date. She's dating an ok guy, but he's just not trust worthy, and I know he'll mess her around - he's slept with 2 people he works with already. I really don't know why she's with him, I did have ample chances to go out with her last year but I was just oblivious. We still have chemistry though, at her birthday in the pub we were in, I got to dance with her salsa kind of style and I was spinning her around and pulling her close. And that spark was there still, mutual chemistry. I really wanted to ask her in private why she got back with this guy, they broke up in January and got back together in March time and went on holiday together. In fact I basically wanted to say to her, that I think she could do better and I could be that choice, but of course I didn't.
I actually really want to date this girl, any advice on breaking them up? Or at least being a contender?
The only conversation I had with her was I found out she knew the girl I met on Tuesday and bonded with. They both went to the same Drama school, although 2 years apart. Apparently dated a friend of hers exboyfriend in between them splitting up and getting back together. I just asked what's she like? Should I pursue it, she suggested just asking her out (which I did today).
Anyway some of her housemates really fancied me, kept telling me how good looking and handsome I was. Was loving the attention. There was one I liked but she found out as I was 24 then was immediately disinterested, think she was about 29(ish), so didn't pursue.
Then I went to a bar with a friend of mine, and as I walked in befriended a group of guys as my base group. One guy thought I was the bomb, he was from sydney, Aus and pretty cool and we had a decent chat about something - can't remember as I was so drunk. Then I went hunting for a lay, I saw a girl staring at me so I walked over and she said to her friend "that guy's so fit" so I said Hi, my names ___. then she introduced herself, asked her one more question before getting really close and getting ready for the make out, then her friend pulled her away....
I went and spoke to someone else she was by the bar on her own, I just wanted another safety net, she was chubby and not too pretty. Anyway she had ok conversation, I loved that she was qualifying herself to me, she was really trying to impress me and asking me all the questions, and I was just totally aloof to the whole thing. Her self esteem was pretty low, and anyway I told her I was going to the toilet, she thought I wasn't going to come back! I was kind of planning on seeing what else was out there, on the way to the toilet. But then thought fuck it she lives just down the road, and I live 2 night busses away, so I just went back to hers and we had sex at night then again in the morning. I specifically told her I was single and wanted to stay that way the night before, she asked for my number in the morning and caught me off guard just as I was leaving so I gave it to her. She sent me a text before I'd even got home! Then 2 hours later a whatsapp of a salad and saying "Take this hangover" - haven't texted back and don't plan too, I was clear in what I said to her the night before. Good to see neediness and bad texts from the other side though.
Trying to focus on my studies now, an exam Monday then 2 in the next 2 weeks. Then I'm all done. To be honest really didn't want to go out and get that drunk or go home with anyone, I really need to well in these exams.
Here's the text convo with L from Tuesday. When at lunch we had a chat about cafe Nero and how they don't pay their taxes, they do loyalty stamps so I just sent her this picture: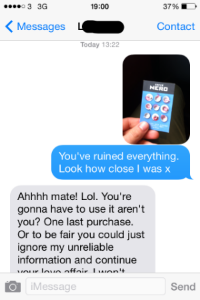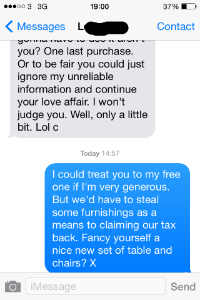 Since I sent it late, I wasn't expecting a response right away - if she doesn't respond, I'll text her Monday or Tuesday asking "still have my partner in crime this Wednesday?"